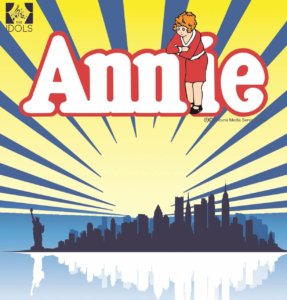 'Annie'  is at The Little Theatre from October 9th to 14th
Show Dates
October 9th to 14th 2017
There are two shows on the 14th
Rehearsals
Rehearsals start on Tuesday March 28th
New member auditions 28th March from 19:30
Children auditions Sunday May 7th at 14:30
If you are interested in taking part in this fantastic show come along to the new member auditions on the dates shown above.
All rehearsals are in the LRI Physiotheraphy Gym
Add the performance dates to your calendar
2017-10-09 19:30:00
2017-10-14 22:00:00
Europe/London
Annie
The Idols Annie (two shows on the 14th!)
Leicester - The Little Theatre
The Idols
[email protected]
Based on Little Orphan Annie, the popular comic strip by Harold Gray, Annie has become a worldwide sensation. Winner of seven Tony Awards, including Best Musical, the beloved show features a wonderful score written by Charles Strouse and Martin Charnin, including the Broadway smash hit, "Tomorrow".
With a perfect combination of street-smarts and optimism, Annie warms the hearts of the audience as we witness her rise from next-to-nothing in New York City. She is determined to find her parents, who left her at the orphanage years ago. Though things don't quite work out the way she has planned, she does manage to thwart the plans of the evil Miss Hannigan and find a new family with billionaire Oliver Warbucks, his secretary Grace Farrell, and her lovable pooch, Sandy.
Tickets available from The Little Theatre Box Office
Tickets: £ 14.00 (Opening Night & Saturday Matinee: £ 13.00)
This amateur production is presented by arrangement with Josef Weinberger Ltd. on behalf of Music Theatre International New York.